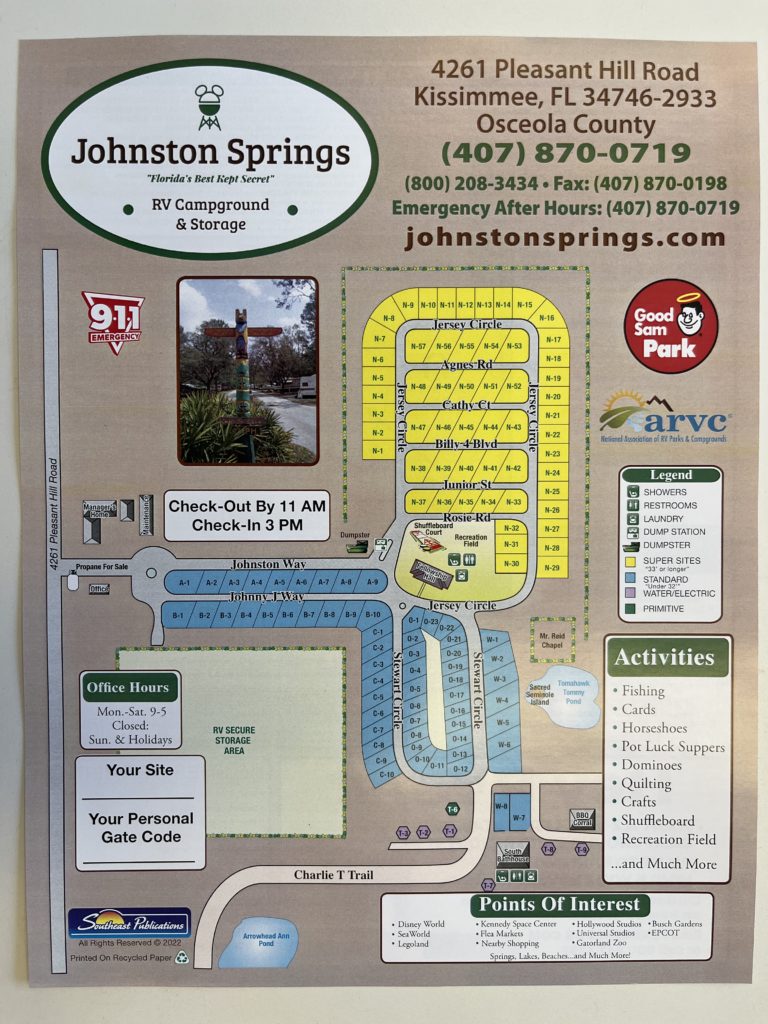 Premium or Park Model Sites
The sites located in the "N" section of Johnston Springs (N-01 through N-32) are provided with 100, 50 and 30 amps. Great for units that are a minimum of 33′ long.
These sites are 50′ wide and from 96 to 156 feet long and have 8'x20′ slabs located far enough away from the utilities services to allow any traveling unit access – with or without slide-outs. These sites will take any unit presently allowed on the road.
All other full service sites have 50/30/20 amp electric provided.
Even though the entire area is sandy, all drives were constructed with lime rock so that even the heaviest units will never have any problems.
Includes water, Electricity, Sewer, 70+ channels on Cable TV (Cable Box from Spectrum REQUIRED).
(Water/Electric) includes water, up to 30 amps electricity and 70+ Cable TV channels.
A beautiful spot of ground is provided as well as fire rings. Have a genuine camping experience sharing ghost stories around a roaring fire with a breathtaking backdrop. No electric or water services at all.
Rates are for 2 adults and their children. Each extra person is an additional $2.00 plus tax per day.
Deposits for one month are longer stays are $300. Deposits are NON-Refundable if you cancel within 30 days of your expected arrival date. Deposits for Daily and Weekly stays are the price of a single nights stay. These short term reservations are NON-Refundable if you cancel within 2 weeks or less of your arrival date. Cancellations made outside of those windows are entitled to a full refund.
Our pet restrictions are simple – no weight requirements but pets must not be of a vicious propensity (insurance talk for a breed that is known to be vicious such as pit bulls, dobermans, etc.). All dogs must remain on a leash at all times with one guest present (no pet tethered but unattended). You are responsible to clean up after your pets. Fines will be accessed to those who do not. A maximum of 3 pets please.
Popular Central Florida Destinations
Orlando International Airport
Conveniently located 1.5 hours from both the Fun Atlantic and Calm Gulf beaches.
Some of Floridas Famous springs are less than 50 miles away.
Closest grocerey stores – Publix (two close within a mile or so) and Super Wal-Mart – 1.3 miles